GM1 Gangliosidosis (GM1) is a severe rare neurodegenerative disease that progressively destroys nerve cells in the brain and spinal cord. Currently, available treatments only reduce the symptoms associated with the disease and no effective medical treatment is available.
GM1 is a hereditary disease and caused by mutation in the GLB1 gene. The disorder leads to severe cognitive and developmental delays.
FDA granted Orphan Drug Designation to Lysogene's drug candidate "LYS-GM101" for GM1 Gangliosidosis Treatment. LYS-GM101 is being developed to replace the defective gene present in the cells of GM1 patients. The gene replacement will enable the production of functional enzyme and restrict the progressive nature of the neurological damage caused by GM1 in the individuals.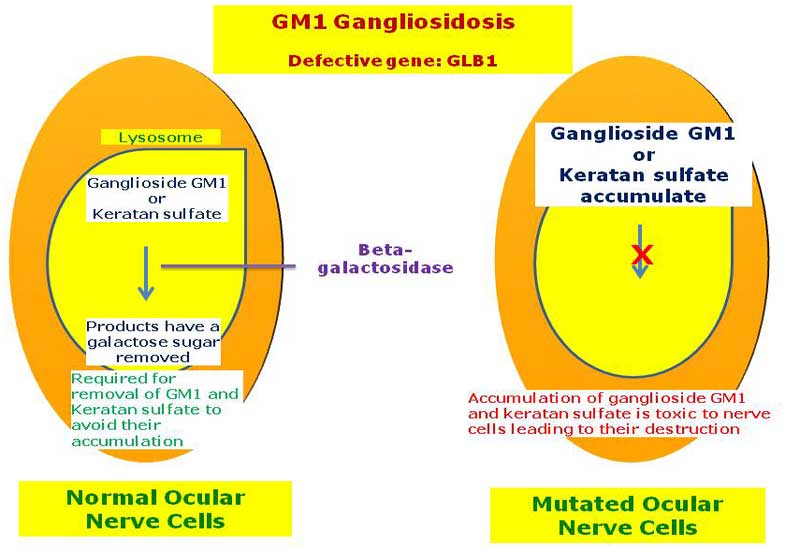 GM1 Gangliosidosis Mechanism (photo credit: disorders.eyes.arizona.edu)
"FDA Orphan Drug Designation for LYS-GM101 is an important regulatory milestone, which will facilitate clinical development of LYS-GM101. It is good news for patients that we can further study this therapy as this is a severe neurodegenerative disease with unmet medical need," stated Karen Aiach, Founder and Chief Executive Officer of Lysogene.
Last month, LYS-GM101 received "Rare Pediatric Disease" Designation from FDA which makes the candidate eligible for developmental benefits in the rare pediatric disease development space after FDA approval. Another Lysogene candidate, LYS-SAF302 had also received Orphan Drug status and Rare Pediatric Disease for the treatment of Mucopolysaccharidosis (MPS) IIIA- a rare metabolic disorder.
FDA defines "Rare Pediatric Disease" as a disease that affects less than 200,000 individuals in the U.S. primarily aged from birth to 18 years.
Lot of research is going on in the enzyme replacement and gene therapy field to find treatment for GM1. Still, not much success is received in this rare disease treatment. The Orphan Drug status to this Lysogene candidate is a new ray of hope for the GM1 patients.
The Company will be starting the initial clinical trial (LYS-GM101) in the first half of 2018. This 2009-founded biotech is mainly focused on the basic research and clinical development based on AAV gene therapy for the treatment of CNS disorders in the area of high unmet medical need.
Featured Image Credit:  Bigstockphoto