Today is 'World Hepatitis Day' and on this event, let's review hepatitis disease and global hepatitis C drug discovery and development pipeline in 2017. 
Hepatitis, an inflammatory condition of liver caused primarily due to viral infection. According to World Health Organization, about 400 million peoples in the world are infected with hepatitis of which about 80 million are living with chronic hepatitis C Virus (HCV). Annually, 700 000 people die from HCV-related complications, including cirrhosis (advanced liver disease) and hepatocellular carcinoma (liver cancer).
Apart from the viral infections, sometimes autoimmune hepatitis is caused due to attack of immune system on its own liver or due to secondary effects of drugs, alcohol, toxins etc. Among the five types of viral hepatitis-hepatitis A, B, C, D, E, the hepatitis A is considered as the milder one and hepatitis D which is the rare form occurs along with hepatitis B infection. Hepatitis E causes due to poor sanitation.
Hepatitis B is now preventable due to presence of HBV vaccine which also protects against hepatitis D virus (HDV). Hepatitis C caused due to hepatitis C virus (HCV) still has no vaccine and could be transmitted directly through infected body fluids. Typically these two, hepatitis B and C become chronic.
Figure 1. The infographic summarizing the latest hepatitis facts (photo credit: internationalsos.com).
Let us review the recent progress made by the biotech and pharma giants to combat hepatitis. HCV infection is the chronic one, whose vaccine is still not available, a rapid advancement has been seen in the past few years by the companies to bring its medication in the market.
Initial Days of Hepatitis C Treatment
Hepatitis C virus has different genotypes and each responds differently to a particular treatment. Initially, in 1980's subcutaneous injections of alpha interferon were given for the treatment of chronic hepatitis C. It was later pegylated to be long-acting and administered with oral ribavirin to increase the sustained virological response (SVR) which is essential to manage chronic HCV infections.
Ribavirin is believed to stimulate the body's T cells to fight the virus and interferon interfere with the ability of the virus to copy and spread itself throughout the body. Therefore, the combination is believed to be effective in combating the virus by strengthening the body's immune system. This combination had several side effects which also needed to manage.
Figure 2. The life cycle of hepatitis C virus in the hepatocyte and mechanism of action of alpha-2b interferon and ribavirin (photo credit: CMAJ 2000;162(6):827-33).
Gilead, the leader in the Hepatitis C Virus Infection Treatment Space
In 2013, Gilead Sciences got U.S. Food and Drug Administration (FDA) approval for sofosbuvir – direct-acting antiviral (DAA)- under the brand name Sovaldi for the treatment of chronic HCV infection. Sovaldi is a once-daily, oral nucleotide analog NS5B polymerase inhibitor. The treatment of HCV evolved rapidly after the introduction of the new class of medicines called DAAs in 2013.

Sofosbuvir has been later combined with several HCV drugs and administered as a combination antiviral treatment regimen.
In 2014, Harvoni (ledipasvir/sofosbuvir) of Gilead Sciences was approved by FDA as the first combination pill to treat hepatitis C. The regimen was approved to treat genotype 1 (GT1) HCV infection and became the first approved regimen which is not required to be administered with interferon or ribavirin.
Later in Nov 2015, the label of Harvoni was expanded for the treatment of genotype 4, 5, 6 (GT4,5,6) chronic HCV patients and also those co-infected with HIV. Basically, Harvoni alters the pathway of the enzymes which are required by the HCV for its multiplication.
Gilead's HCV drug was also accepted nicely by Germany, Japan, and south European countries. Gilead's Sovaldi and Harvoni became the breakthrough therapies for HCV infections. They were reported to exceed the cure rates (up to 99%) in the real world population than expected during the clinical trials.
Few days back, FDA approved Vosevi® as the first treatment to treat HCV patients who have been previously treated with the direct-acting antiviral drug sofosbuvir or other drugs for HCV that inhibit a protein called NS5A.
FDA Approves Gilead's HCV Drug, Vosevi®, Works for Sovaldi®Treatment Failed Patients
Blazing Competition in HCV Drugs Market
In 2014, Olysio (simeprevir) of Janssen Pharmaceutical, the pharmaceutical division of Johnson & Johnson got approved by FDA along with sofosbuvir to treat chronic GT1 HCV infection. It can be used without ribavirin or pegylated interferon.
Key players in global HCV research market
After the launch of Harvoni, Gilead witnessed a tremendous spike in the number of new HCV patients as most of them had delayed their treatment till the launch of Harvoni but later by the end of 2015, this trend witnessed a gradual downfall.
Figure 3. HCV franchise revenues (photo credit: Market Realist).
In December 2014, FDA approved AbbVie's Viekira Pak (ombitasvir/paritaprevir/ritonavir co-packaged with dasabuvir) for the treatment of genotype 1a and 1b (GT1a,1b) HCV infection. It can be used with or without ribavirin. It is currently approved in 61 countries.
Figure 4. Viekira Pak revenues (photo credit: Market Realist).
This combination therapy was approved as Viekirax in Europe. Earlier this combination was approved as Technivie along with ribavirin to treat GT4 HCV infection. Abbvie's two direct-acting antiviral (DAA) drug, ribavirin free combination-2DAA which consists of the fixed-dose combination of paritaprevir/ritonavir (150/100 mg) with ombitasvir (25 mg) for GT1b HCV treatment performed well in Japan.The 2-DAA regimen showed 95% cure rate in Japanese HCV-1b patients.
 Viekira XR is the first all-oral, co-formulated three DAA treatment that received FDA approval for treatment of GT1 HCV patients including those with compensated cirrhosis last year.
Viekira XR (dasabuvir, ombitasvir, paritaprevir and ritonavir) is a once daily, extended release tablet having same active ingredients as Viekira Pak.  
Figure 5. Mechanism of action of Viekira XR (photo credit: Abbvie).
Another competitor, Bristol-Myers Squibb (BMS) got approval for its Daklinza (daclatasvir/sofosbuvir) by FDA in July, 015 to treat GT3 HCV infection without the need of interferon or ribavirin. This all-oral, once daily regimen yeids up to 100 percent cure rate. Genotype 3 HCV infection is the most aggressive form of all seven genotypes of hepatitis C. These patients have more chance of getting affected with fibrosis and cirrhosis.
Daklinza plus Sunvepra (asunaprevir) is approved in Japan to treat GT1 chronic HCV infection in patients.
Figure 6. Molecular mechanism of daclatasvir (photo credit: Lancaster Gastroenterology Inc.).
In the beginning of 2016, US FDA approved Merck's Zepatier (grazoprevir/elbasvir) with or without ribavirin to treat adult patients suffering from GT1 and GT4 HCV patients. Zepatier was introduced at a much lower price to compete with the existing HCV players.
In GT1a HCV infection some mutated hepatitis C viruses confers resistance to treatment. They are known as resistance-associated variants (RaVs). These RaV HCV patients will play a crucial factor of competition between AbbVie's Viekira Pak and Merck's Zepatier. Zepatier's US label recommends GT1 HCV patients to undergo resistance-associated variants testing.
This competitive environment has decreased the Gilead's hepatitis C sales from $4.9 billion in 2015 to $4 billion last year. The prime reason behind this is the fall in sales of the blockbuster drug, Harvoni. But this year the rate of decline in the sales slowed down.

Although Harvoni survived competition from its own company's all-genotype HCV treatment, Epclusa due to its strong SVR rates in GT1 patients and its ability to be utilized as 8-week therapy unlike the 12-week therapy of Epclusa but the competition from other companies has taken its toll.
Advent of Next-Generation HCV Regimen
In spite of the entry of new players in HCV competition, Gilead maintained its strong position after the FDA approval of Epclusa (sofosbuvir/velpatasvir) in June 2016. Epclusa is the first regimen to treat all types of six major genotypes of HCV infection with or without cirrhosis in combination with ribavirin.
It was a groundbreaking therapy which was considered to cure even the patients suffering from the most aggressive genotypes of HCV infection.  It boasts the cure rate of 95%.
Now, it seems an unconventional competitor is eyeing on the US based hepatitis C leader Gilead's newly launched Epclusa's revenue. A Bangladeshi drugmaker, Beacon Pharma emerged as a first generic drugmaker in the world to develop the copycat versions of Epclusa.
Beacon launched the global first generic oral tablet for all major forms of chronic Hepatitis C (GT1 -GT6) treatment under the brand name Sofosvel (sofosbuvir/ velpatasvir) at a much lower price than the Gilead's Epclusa.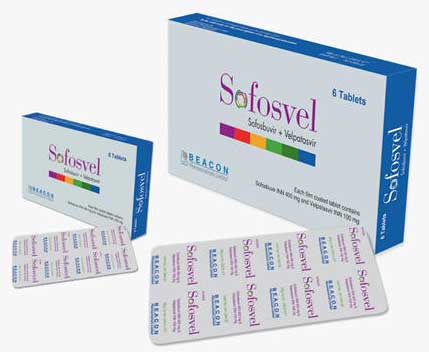 Hepatitis C Treatment in India
About 12 million peoples in India are infected with hepatitis C. Bangalore-based Biocon Ltd introduced CIMIVIR-L™ which is a generic version of Gilead's Harvoni .It is an affordable, once-daily combination therapy for hepatitis C patients. Biocon entered into a non-exclusive licensing agreement with Gilead Sciences to manufacture and market Sovaldi and Harvoni for India and other developing countries.
The 12 week combination therapy, CIMIVIR-L™ will be made available to the patients at a much lower price. In US, 12-week course of Gilead's Harvoni costs about $94,500. Harvoni is one of the most expensive drug in the world.
Gilead Sciences along with its 11 partners in India are starting a Voluntary Licensing model that transfers technology and Intellectual Property for latest treatments of viral Hepatitis and HIV.
The UN-backed Medicines Patent Pool (MPP) provided licence to six Indian companies to manufacture generic version of antiretrovirals (ARVs) and direct acting antiviral (DAA) for the treatment of hepatitis C.
BMS license deal with MPP over its hepatitis C drug, Daklinza allowed MPP to provide its license to these six Indian companies to manufacture its generic version.
The six companies are Hyderabad-based Aurobindo Pharma and Hetero Labs, Pune-based Emcure Pharmaceuticals, Visakhapatnam-based Laurus labs, Mumbai-based Lupin Limited and Ahmedabad-based Zydus Cadila.
Key players in Indian HCV research market
According to the report of Zion Research, the global market of hepatitis C drug is expected to reach $27.63 billion in 2021 with a compound annual growth rate (CAGR) of 17%.
The current research and development in the pharmaceutical industry is expected to increase the market dynamics. It will lead to the entry of some more biotech and pharmaceutical companies in the competition of HCV infection treatment. The high cost of the existing effective drugs in the market will also propel the generic market of HCV treatment.
This blazing competition in hepatitis C treatment space will surely be able to eradicate hepatitis infection from the world map.
Featured Image Credit: Bigstockphoto.com