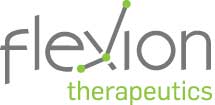 US-based Osteoarthritis firm, Flexion Therapeutics' Zilretta™ received approval from US FDA to treat knee pain due to osteoarthritis. It is an early dawn to fight the emergency condition of the opioid epidemic in the US.
Unlike the highly prescribed addictive opioid pain-relieving drugs, Zilretta is a non-opioid injectable drug which is injected into the knee joint to provide pain relief from moderate-to-severe knee pain for up to 12 weeks.
The drug is expected to be available in the US by the end of October at a price of $570 per dose. Osteoarthritis is a most common form of arthritis which is a degenerative joint disease, causing chronic pain and stiffness in the joints. It affects millions of people worldwide.
Zilretta (FX006) is an extended-release injectable suspension of the commonly used synthetic corticosteroid, triamcinolone acetonide (TA). It is designed to prolong the availability of the drug at the joints after the intra-articular injection without the need for repeated administration.
Zilretta is formulated using the company's proprietary microsphere technology combining TA with a poly lactic-co-glycolic acid (PLGA) matrix. It is a non-opioid formulation that is slowly released in the body.
The opioid painkillers are highly prescribed in the US that is readily available in the pharmacies. To counter the higher levels of chronic pain increased doses are prescribed to the patients that lead to opioid addiction or drug overdose conditions. Oxycontin, Percocet, and Vicodin are some of the common opioid painkillers that are highly prescribed in the US.
Addiction to these painkillers leads to the attraction of the patients towards its cheaper alternative heroin- a highly addictive, illegal drug. Opioids interact with the opioid receptors in the brain nerve cells and nervous system that relieves pain and produces pleasurable effects.
Drug overdose is a leading cause of accidental death in the US with 20,101 overdose deaths related to prescription pain relievers, and 12,990 overdose deaths related to heroin in 2015, according to American Society of Addiction Medicine.
President Donald Trump declared the opioid epidemic a national emergency in August that needs to be combatted early. In this scenario, the FDA approval of the non-opioid painkiller, Zilretta could be a significant breakthrough in the osteoarthritis knee pain management.
The elderly patients with the conditions like hypertension and diabetes are at a higher risk of osteoarthritis. Zilretta has the potential to be more beneficial to the patients than the currently available therapies.
---
Also Read:  Sun Pharma, Moebius Tie Up to Develop Liposomal Non-Opioid Osteoarthritis Pain Drug
This Futuristic Product to Replace Painful Knee Joint Surgeries
---
Featured Image Credit: Bigstockphoto (zilretta FDA approval)